My dear friends,
This week I am back in Barcelona, one of my favourite cities in the world. On 1 April I will be taking the stage at the Gran Teatre del Liceu to make my debut as La Gioconda, but first… a song recital !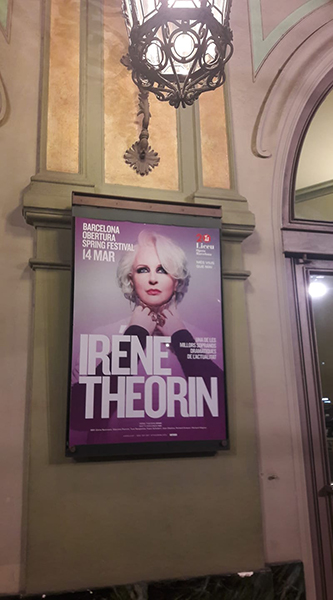 I'll be performing at the Barcelona Obertura Spring Festival on 14 March with pianist Matti Hirvonen. We'll be performing songs by Schubert and Strauss as well as works by my fellow Scandinavians Sibelius, Rangström and Nystroem. There will also be some arias from Wagner and Puccini!
I hope to see you there! Make sure to visit Gran Teatre del Liceu's Facebook page tonight – they'll be announcing their next season which celebrates the 20th anniversary of their reopening. Tune in to the broadcast live on Facebook from 8pm CET and see if you can spot me 😉!
I also received some lovely news yesterday – I am hugely honoured to have been awarded this year's Jussi Björling Stipend by the Royal Theatre Soloists Foundation and the Anders Wall Foundation. On 26 May I will join previous winners for a celebratory concert in Stockholm, which will be a very moving occasion.
Be brave,
Iréne